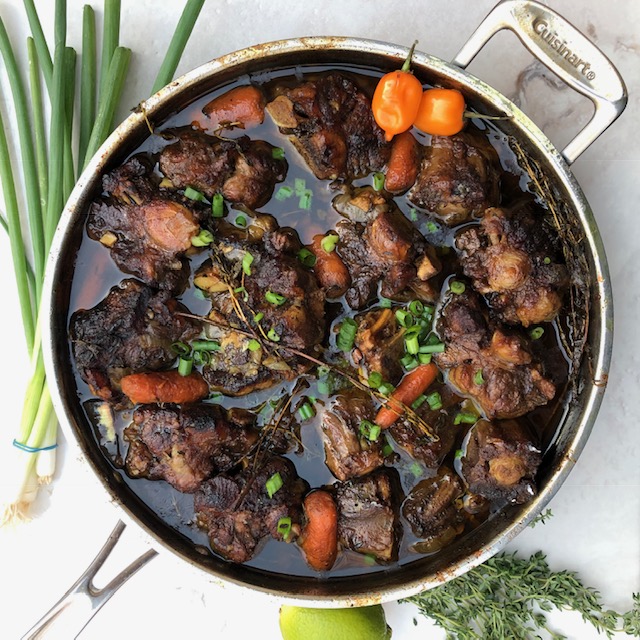 Braised Oxtails
Although I personally prefer not to eat beef; its something about "Oxtails" that remind me of home. I got first introduced to oxtails while living in Miami through my extend Caribbean family.  Its cooking method is a reminisce of love for details and preparation, which requires time and patience something we all can increase in practice. This reminds me of that famous phrase "Set it and forget it" LOL but check out my own twist on this island classic!
Chef Mark P.
Braised Oxtails
Total Time:
4
hours
10
minutes
Ingredients
2

 –

3

 

tablespoon

 

cooking oil

1

– 

2

 

pounds

 

oxtail cut up medium pieces

1

  yellow

onion chopped

1

tablespoon smashed

garlic

3-4 springs

fresh thyme

½

 

teaspoon

 

smoked paprika

1/2 teaspoon all spice
1/2 cup baby carrots

1

 

tablespoon

 

ketchup /tomato paste

1

 

Whole Scotch bonnet pepper

2

 

green onions chopped

4-5 tablespoons Graces Oxtail & Stew Seasoning

1

 

Tablespoon

 

Worcestershire sauce

1

-2

teaspoon

 

curry

2-3 cups vegetable stock
2 cups water

15

 

ounce

 

can butter beans

 

, rinsed and drained (optional)

Salt to taste
Instructions
Season oxtail with graces oxtail seasoning. Set aside (or let set overnight for full flavor impact)

In a large pot, heat oil over medium heat, until hot, and then add the oxtail sauté stirring, frequently, any browned bits off the bottom of the pot, until oxtail is brown. If desire drain oil and leave about 2-3 tablespoons

Add onions, green onions, garlic, carrots, thyme, all spice, Worcestershire, smoked paprika, stir for about a minute. Throw in scotch bonnet pepper, tomato paste, and curry powder, stir for another minute.

Then add about stock and water , it's best to start with 4 cups , then add as needed . Bring to a boil and let it simmer until tender (depending on the oxtail size and preference) about 3-4 hours, occasionally stirring the saucepan. (or place in oven for the same amount of time; covered)

About 20-30 minutes before you remove from the stove add broad beans. Adjust thickness of soup with water or stock.

Season with salt according to preference.