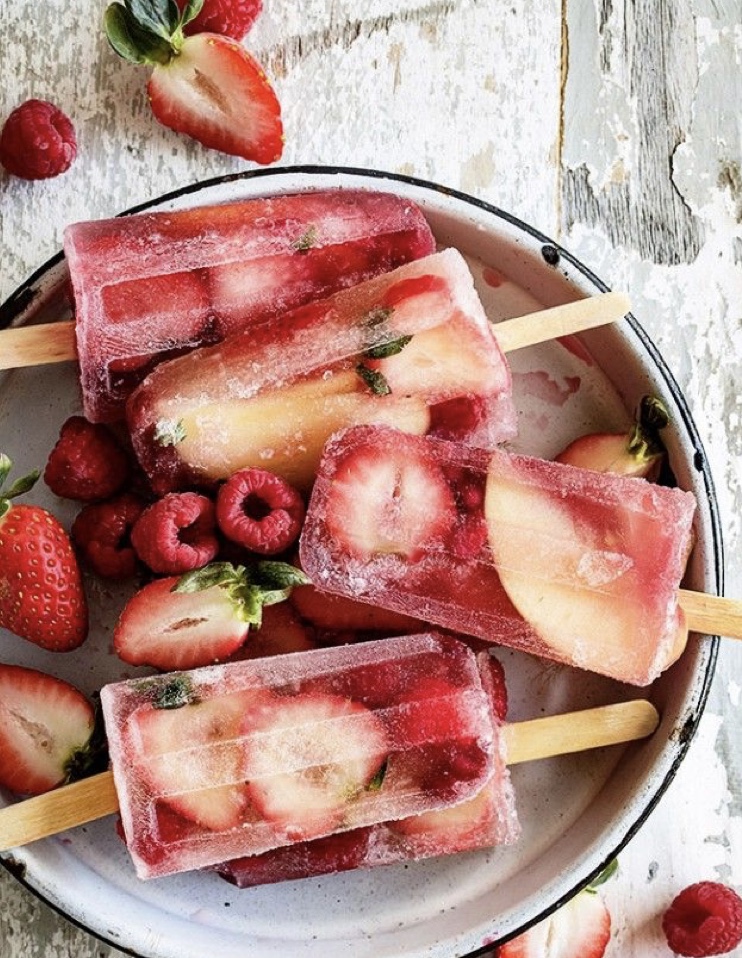 Champagne Popsicles
There is popsicles and then its "Adult Champagne Popsicles".  I am sure many of us ate popsicles growing up and some of us do now; however this recipe is a whole new level of deliciousness. Something about the bubbles in the champagne mixed with the fruit makes this tasty treat great for any occasion or no occasion at all. As spring is on the horizon this is welcome break along with the weather!
Happy Eating!
Champagne Popsicles
Yield: Makes 10 popsicles
Ingredients:
1 Bottle Champagne ( I used McBride Sisters Brut Rose)
1 1/2 cup Berry Lemonade
1/2 cup vodka (I used Three Olives Rose Vodka)
1 tablespoon agave
8-10 oz of mixed berries, apples and peaches
4-6 springs of mint
Directions:
In a mixing bowl slightly whisk Champagne, vodka, agave and lemonade. Layer each well with a variety of fruit and torn pieces of mint. Cover top of popsicle mold with foil (if you do not have plastic mold). Create a hole in the center of each well just large enough to insert a popsicle stick; insert popsicle stick. Transfer to freezer and chill until frozen solid, about 2-4 hours (time may vary according to freezer type and how full it is).
"You're only here for a short visit. Don't hurry, don't worry. And be sure to smell the flowers along the way." —Walter Hagen