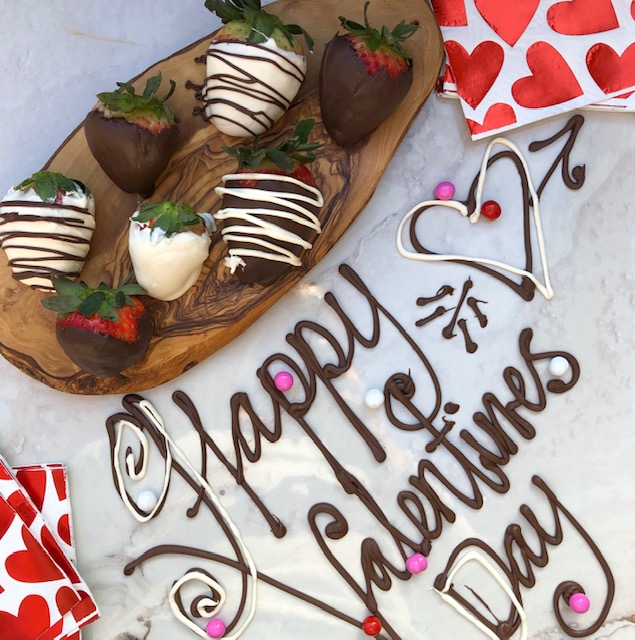 Chocolate Covered Strawberries
Chocolate covered strawberries just might be the most known edible treat on Valentine's Day. You can compliment the strawberries with flowers,  champagne and a candlelit dinner to create a wonderful evening for you and that special person. Making the "Chocolate Covered Strawberries" yourself is a good display of time and attention; which I am sure will be appreciated.  So what is the secret to making the perfect chocolate covered strawberries at home? Patience!  Check out the steps below and most of all have fun doing it.
Happy Eating! Chef Mark
Chocolate Covered Strawberries
Preparation Time – 5 minutes
Cooking Time – 15 minutes
Ingredients
1lb Fresh strawberries
12oz Milk or Dark chocolate pieces
12oz White chocolate pieces
2 tbsp Vegetable oil (1 tbsp per type of chocolate)
Parchment paper
Garnish (optional)
1/4 cup Finely chopped nuts
Instructions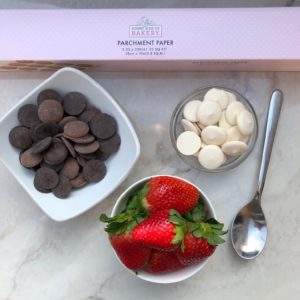 Prepare Strawberries
Wash strawberries under cold running water and let drain completely.
Wipe them well to drain any excess liquid – Wipe each strawberry with a paper hand towel. Then air dry!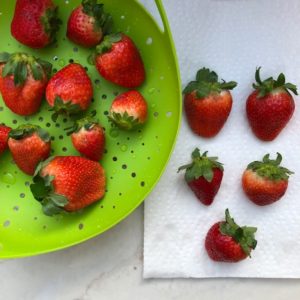 If the strawberries are not completely dry, any drop of water that falls into your chocolate will compromise the chocolate.
Melt Some Chocolate
Create a double boiler with a small pot and glass bowl. Be sure not to let the water to touch the glass bowl when boiling.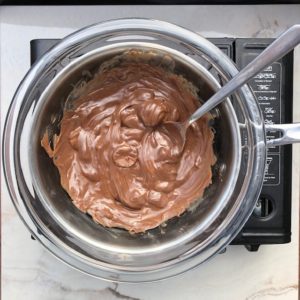 Alternatively: Microwave for about 30 secs to one minute until completely melted.
Add vegetable oil to the melted chocolate – stir well.
This will thin the chocolate giving you a smooth and shiny finish. Plus a thinner chocolate consistency makes it easy to dip the strawberries.
**Follow these same steps for the white chocolate**
Dip Strawberries
You can pick a strawberry by the stalk (green) and dip into the chocolate. (Note: you can also use a toothpick to dip the strawberries- see picture)
Hold it above the chocolate for a few seconds to let excess chocolate drip.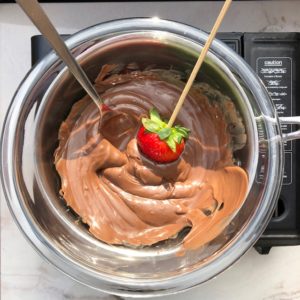 Gently rub the back of the strawberry over the edge removing any excess
Place on a parchment paper leaving enough room between each one of them.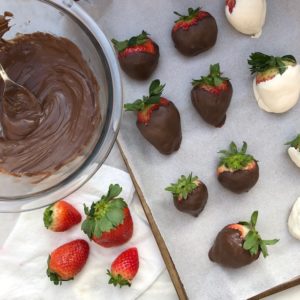 Optional Decoration Step:
Place remaining chocolate from the bowl in a piping bag and use a rubber band to hold tight. (You can find these bags at your local craft/party store)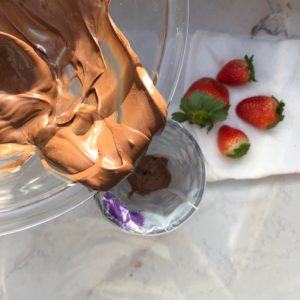 Cut the tip off the bag and gently drizzle the chocolate over the strawberries back and forth.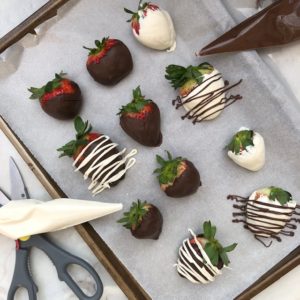 Chill Strawberries
Place the tray in the fridge for 20 minutes until the chocolate is set.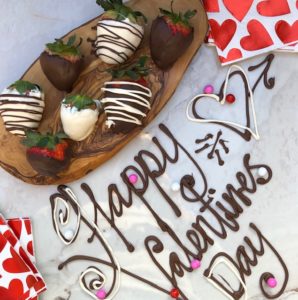 These will stay well in the fridge for up to 3 days.
As the strawberries lose their freshness the chocolate will start to crack and fall off.
"Love is a force more formidable than any other. It is invisible – it cannot be seen or measured, yet it is powerful enough to transform you in a moment, and offer you more joy than any material possession could. "
Barbara De Angelis