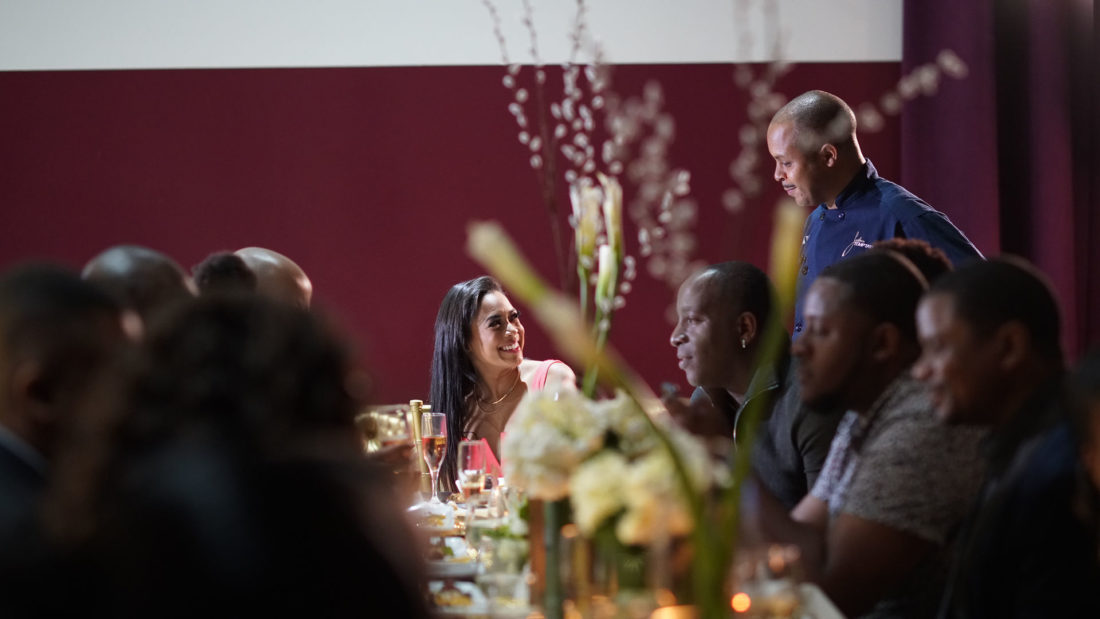 Coursed The Experience
"Coursed the Experience"
Today marks 60 days since I hosted my first culinary event! Coursed the Experience is a idea I had where I would take guest on a culinary journey from a chef's point of view.  This overall idea is not unique to myself however the experience and my passion for culinary arts make this moment in time unique in its own right.  I have catered and cooked for several events in the past but this was my first time; hosting, promoting, curating, cooking and most importantly investing in myself.
I believe in my talents and gifts and I wanted to share them on a intimate level with people I personally knew and some that I had never met. The process of putting all the details together was a nervous excitement, which took over me several times leading up to the event date and throughout the experience.  That feeling alone (if being present) is a reminder of being alive and in the moment. I love numbers and numerology so in selecting the date that also played a roll "4.11.19 (date) and 7pm (time)".  The exact amount of tickets sold was the perfect amount of seats at the dinner table so everyone would sit comfortable.  The attention to detail did not stay in the kitchen; I hand picked each item on the table, to the flowers and designed the tablescape (with the assistance of my sister Erica Smith), menu layout and event the song selections playing in the background.
The theme for this first event was "Georgia/South" and I chose this particular culture because of the region, my roots and the access I had to local and seasonal items to get as close as I could to "farm to table". I wanted to showcase foods that were generationally meant to be "down home cooking" (for lack of better words) and breath a elegant life into them with a artistic culinary flare.  Each course was carefully thought out and designed to take each guest on a journey paired with the appropriate wine.
The first course was my take on a deviled egg which I renamed for the experience the "epicurious egg". I dyed the eggs in beet juice to give the egg a pink hue; then I whipped pimento cheese with the yoke, sweet corn puree, smoked paprika and fried okra crisp. Shrimp & Grits was the second course where I used Georgia shrimp, a smoked gouda polenta cake in the shape of Georgia with pepper cream (see pictures below)
The third course was the entrée this is where I made my version of a cabbage role using traditional southern food items to roll inside. I blanched whole collared leaves and stuffed them with slow smoked organic chicken, chopped Vidalia onion broth collards, Vermont cheddar cavatappi, sage yam puree and my BBQ au jus. The forth and final course was the chocolate truffle flight; red velvet, bannana pudding and peach cobbler.  Every individual truffle was handmade and rolled by scratch as I wanted to put my love for cooking in every bite.
I wanted to make sure every guest had a evening in my world. I told all of the guest do not just eat your food but taste the flavors, tasted the notes in the wines and see where they pair with the food they are eating. Yes I want you to take pictures, post and like the food but most of all I wanted them to be present in the moment and enjoy their evening.  Feeding their stomachs is what initially was the point of everyone attending the experience however each guess was informed to place their name card infront of the word(s) that spoke to them but don't read the back of it.  When planning out this event I want to have everyone leave full physically but also mentally.  I had purchased "Gratitude Cards" by Julia Cameron and place each one randomly on the table held by old wine corks. After I explained the first course I then advised the guest they could read the cards and I had hoped that each person took home just a little bit more positivity in their lives.
My intention for putting together this experience was to showcase my love of food and bringing people together to fellowship over wine, food and good conversation. A special thank you goes out to all of the staff/friends that helped my bring my vision to life; Erica Smith, Jason Ellis, Taylor Love, J Chris Boone, Chef Keedra, Diamond and the owners at Revel.  I am excited to develop more experiences in the coming months/years and hopefully it will grow into a international phenomenon.  I appreciate you taking the time out to read this blog post and hope to see you soon at one of my "Coursed the Experience".
Happy Eating- Chef Mark Phillips