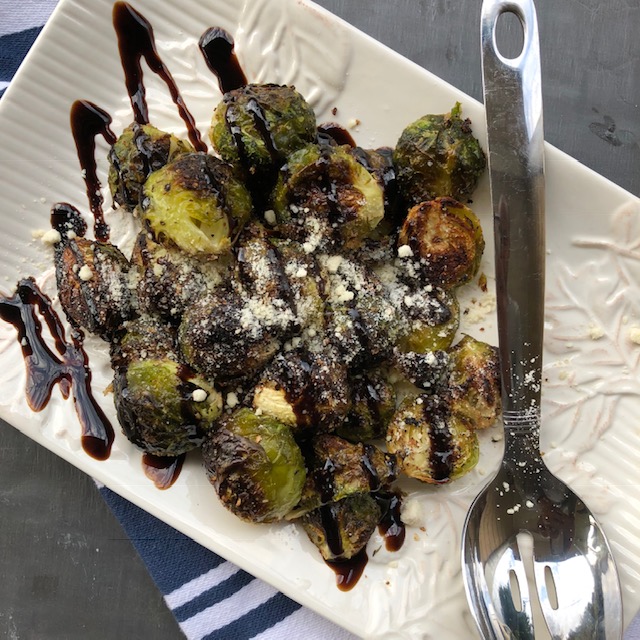 Crispy Brussels Sprouts
I remember as a kid seeing "Brussels Sprouts" in the grocery store and thinking to myself WTF is that? My mother never cooked brussels sprouts and it was not until I got into my adulthood while advancing my education in culinary that I now love them.  Roasting the sprouts in the oven is by far my favorite cooking method; the slightly chard borderline burnt taste somehow compliments the natural flavors of the sprouts.  In my recipe below I compliment the sprouts with the tanginess of balsamic and the saltiness of the parmesan cheese.  Happy Eating!!!
Crispy Brussel Sprouts w/ Balsamic Chili Glaze
Prep Time: 10 Min
Cook Time: 20 Min
Total Time: 30 Min
Ingredients
1 lb fresh Brussels sprouts
1.5 tbsp olive oil
1/2 tsp kosher salt
1/2 tsp onion powder
1/2 tsp garlic powder
1/4 tsp fresh ground black pepper
Grated Parmesan Cheese (Optional)
Chili Balsamic or Regular Balsamic Glaze (Optional)
Directions
Preheat oven to 425. Cover a baking sheet with parchment paper and set aside.
Rinse sprouts in cool water and then chop off the tough ends. Chop sprouts in half.
Drizzle olive oil over the chopped sprouts and then toss to combine. Season with salt, pepper, onion powder, garlic powder and spread the sprouts out evenly over the baking sheet.
Roast for 20-25 minutes or until the sprouts are tender-crisp.
Drizzle with balsamic glaze and Parmesan cheese sprinkle with salt to taste (if needed).