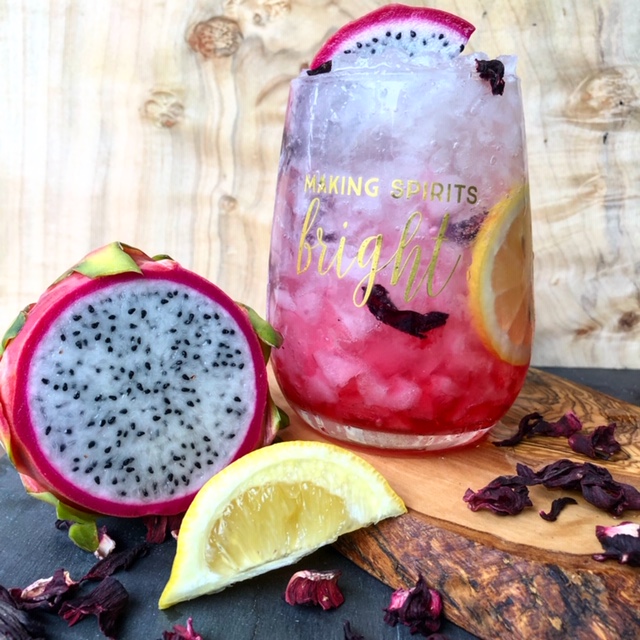 Hibiscus Spiked Lemonade
There are cocktails and then there are cocktails with a bit more love and detail. Yes this recipe takes a little time to prepare but trust me its worth the time and effort.  The floral notes paired with the lemonade and the kick of the booze is sure to be a drink to remember.  If you are like me you will top off your cocktail with a little extra Titos!!!
"Drink Responsibly"
Hibiscus Spiked Lemonade
Makes: 2 Cocktails
Ingredients
8 dried hibiscus flowers
1/4 cup hot water
2 1/2 ounces Titos vodka (or your favorite vodka)
1 ounces simple syrup
Lemonade homemade (or you can get store bought)
Ice
Dragon Fruit (garnish)
Directions
1.       Place the hibiscus flowers into the hot water. Use a spoon to submerge the flowers and let them steep for 10 to 15 minutes. Stir occasionally to help release the pigment and flavor. Use your spoon to remove the flowers from the water; let cool for 20 min and reserving two flowers for garnish.
2.       Pour 1 1/4 ounces of vodka and 1/2 ounce simple syrup into each glass. Fill almost to the top with lemonade. Add crushed ice. Pour the hibiscus tea over the ice and let it bleed into the cocktail.
3.       Garnish with Dragon fruit. Serve as is, or give the cocktail a quick stir to distribute the tea.
Notes
Hibiscus tea can be made in advance. Simple Syrup: Simmer together 1/2 cup water + 1 cup sugar in a sauce pan over medium-high heat until the sugar dissolves. Remove from the heat and let cool and can be stored in refrigerator up to seven days.