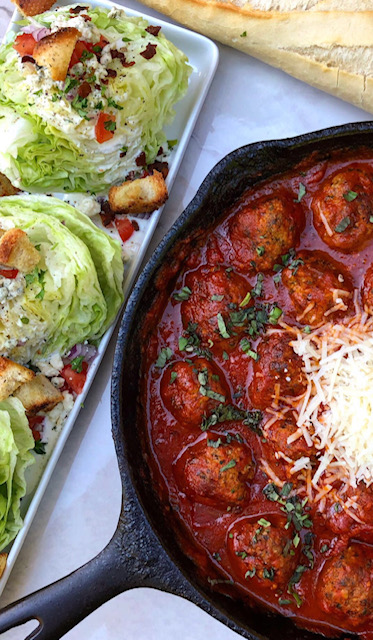 Kale & Cremini Mushroom Turkey Meatballs
Italian food is probably one of my favorite food cultures. I personally do not eat beef and pork which are traditional ingredients in Italian meatballs so I have created my own flavorful twist (note: you can add beef and pork in replacement of turkey).  The mushrooms and kale inside the meatballs add extra moisture to help prevent from drying out while adding additional flavor. Also there are no eggs or breadcrumbs in my recipe so this makes #gluten-free and #dairy-free. Pasta: one of my weaknesses! So of course I placed my meatballs over spaghetti but you can eat them by themselves, with French bread or rice.
Happy Eating!!!
Kale & Cremini Mushroom Turkey Meatballs
Serves : 4
Prep: 20 mins
Cook: 20 mins
Total: 40 mins
Ingredients   (The Meatballs)
1 lb. lean ground turkey
1/2 medium onion, grated
4-5 roasted garlic cloves, minced
1/4 cup finely chopped kale
1/4 cup finely chopped cremini mushrooms
1 Tbl fresh basil, chopped
1/2 tsp salt
2 tsp olive oil
1/2 tsp ground pepper
The Sauce
1 Tbl olive oil
1 small onion, chopped
3 roasted garlic cloves, minced
1 tsp ground oregano
2 Tbl chopped basil
1/4 tsp red pepper flakes
1/4 tsp salt
1/4 tsp ground pepper
1 (28 oz.) can crushed tomatoes
1 (14 oz.) can crushed tomatoes
6 basil leaves, thinly sliced
Directions
The Meatballs:
1. Preheat the oven to 350 degrees F.
2.  In a large bowl, stir together the ground turkey, onion, garlic, basil, mushrooms, kale, salt and pepper.
3. Divide the mixture into 8 portions, form into balls and set aside.
4. In a non-stick pan over medium high heat and 2 tablespoons olive oil. Sear Meatballs on both sides (approximately 3 mins per side) and place on a plate then set aside.
The Sauce:
1. Use the same skillet from the meatballs Heat the olive oil and set over medium heat. Add the onion and cook until softened, about 5 minutes.
2. Stir in the garlic, oregano, red pepper flakes, bay leaves, salt and pepper, and cook for 1 minute.
3. Add the crushed tomatoes, bring the sauce to a boil, and then simmer for 10 minutes. Stir in the basil.
4. Nestle the meatballs into the sauce and spoon sauce over to coat the meatballs. Place in preheated oven and cook for 20 minutes.
5. Remove from oven and let stand for 5-10 mins. Serve over pasta or rice, or on their own.
" My mom said the two most important kitchen utensils are attached to your arms… you cannot mix up meatballs with a wooden spoon, get in there, get your fingers dirty!"
Rachael Ray