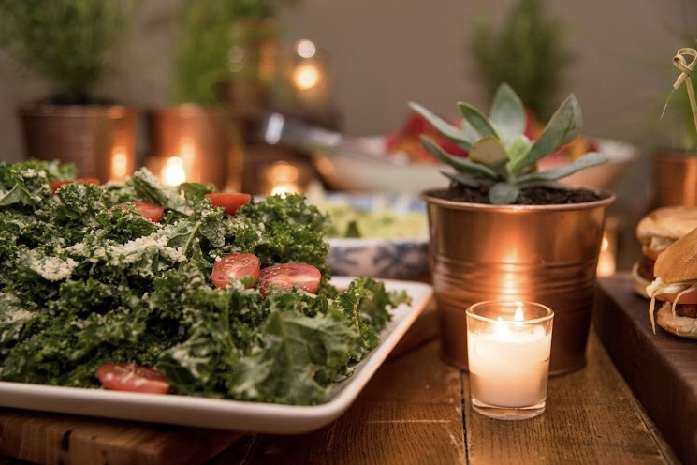 Lemon Vegan Parmesan Vinaigrette
I created this recipe for a "Vegan/ Vegetarian" catering event and the client wanted a salad but no dairy.  I suggested a "Kale Caesar" salad that would not only be tasty but completely vegan.  Its creamy, light, and rich with garlic and pepper notes. It's got all the flavor of a traditional Caesar, with none of the eggs, dairy, or anchovies. This recipe is a great substitute for those who are looking to try something new or whom have dietary restrictions but does not want to sacrifice on flavor. I used panko bread crumbs to give you that crunch and fresh sliced cherry tomatoes.  Happy Eating!
–    Chef Mark P.
Lemon Vegan Parmesan Vinaigrette
Ingredients
1/2 cup olive oil
1/4 cup tarragon vinegar
3 cloves garlic , grated
1 1/2 lemon , juiced
1 tsp dried thyme
1 tsp kosher salt
1/4 tsp fresh cracked pepper
2 Tbls grated vegan Parmesan (I used the brand "Go Veggie")
1 Tbls vegan Mayo (I used the brand "Just Mayo")
1 tsp dijon mustard
1 Tbls honey
Instructions
Combine all the ingredients in nutrition-bullet (or food processor) on high for 30 seconds to 1 minute Serve.
Store in fridge for up to a week.