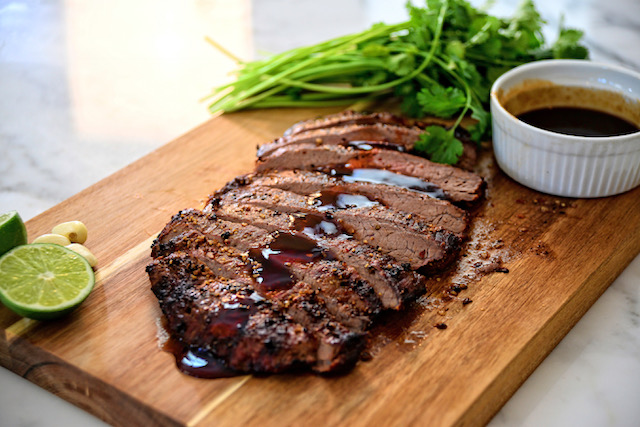 Red Wine Grilled Flank Steak
Red Wine + Red Meat= Deliciousness!!! Grilling is one of my favorite cooking methods; its something about that flavor of the smoke in the meat and the sizzle from the heat. I have been curating recipes using "McBride Sisters" wine and for this particular recipe I used their Red Wine Blend. This wine compliments the steak very well and its a simple recipe that does not take long to prepare.  I personally prefer a 24 hour marinate but 30 minutes in the minimal… check out the recipe below!
Happy Eating!
Chef Mark P.
Red Wine Grilled Flank Steak
Ingredients
For Marinade:
• 1/2 cup olive oil
• 1/3 cup soy sauce, gluten free
• 1/4 cup McBride Sisters Red wine
• 2 Tablespoons lime juice, fresh squeezed
• 1 1/2 Tablespoons Worcestershire sauce
• 1 Tablespoon Dijon Mustard
• 2 garlic cloves, minced
• 1/2 teaspoon pepper, fresh ground
Steak
• 1 1/2 lbs Flank Steak or Flat Iron Steak
Instructions
1. In a medium bowl, mix the olive oil, soy sauce, red wine, lime juice, Worcestershire sauce, Dijon Mustard, garlic and pepper.
2. Place the steak in a gallon size Ziplock bag. Pour marinade over the steak, mixing the meat so it's coated thoroughly. Refrigerate for at least 30 minutes, up to 12 hours.
3 After the meat has marinated, remove the meat from Ziplock bag and let rest on a plate for 10 minutes.
4 Preheat your grill to medium-high heat. Place the steak on the grill and sear on each side for 2-3 minutes.
5 Grill meat for 7-10 minutes per side, or to desired doneness.