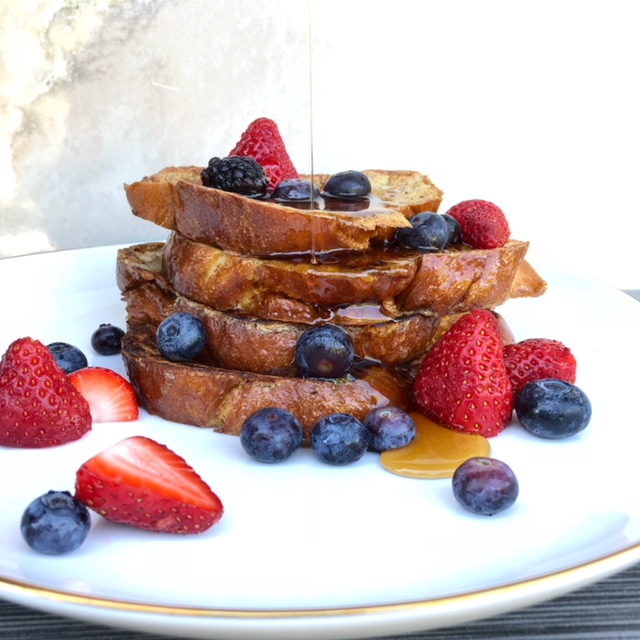 Vanilla Bean French Toast
Did you know that "French Toast" actually did not originate in France. The earliest reference dates all the way back to 4th century Rome, in a cookbook attributed to Apicius. This bread, egg and milk practice became common throughout Europe in the Middle Ages, including making it primarily out of stale bread. Countries from all over the world have put their own unique twist to the ever popular dish.  Below is my take on the classic but of course I had to put my chef inspiration on it!  Grab a mimosa and enjoy!!!
– Chef Mark P.
Vanilla bean Cinnamon French Toast
MAKES: 4 SERVINGS
SERVING SIZE: 2 SLICES
PREP: 10 MINS
COOK: 4 MINS PER SLICE
INGREDIENTS
4 eggs (lightly beaten)
1/4 cup heavy cream

2 tablespoons sugar
2 teaspoons Madagascar vanilla
1 teaspoon ground cinnamon
1/4 teaspoon all-spice

8 slices challah bread

2 tablespoons butter or olive oil

Natural Maple syrup

Mixed berries (strawberry and blueberries) optional
DIRECTIONS
In a shallow bowl; beat eggs heavy cream, sugar, vanilla, cinnamon and all-spice. Dip bread slices into egg mixture, coating both sides.
In a very large skillet or on a griddle, melt 1 tablespoon of the butter over medium heat. Add half of the bread slices and cook for 4 to 6 minutes or until golden, turning once. Repeat with remaining bread slices and the remaining butter.
Serve with maple syrup and berries.